The A2200 3D Multi-material Electronics Printer
3D Print Electronics - From Sensors to Antennas to Medical Devices and Beyond
​
​
► The A2200 is the only direct-to-consumer system that prints FDM side-by-side with functional paste and highly conductive inks. Now you can print electronics like never before.
Print Gold, Ceramics, ABS and More
​
► Use a wide range of new and industry-standard materials to make combined prints. Make fully 3D objects embedded with functional materials.
Make The Strongest 3D Prints Available With Composite Materials
​
► Traditional 3D prints layer plastic and are weak at the seams. The A2200 can print a layer of plastic, followed by a layer of "glue," and so on, resulting in composite structures that are tougher than ever before.
The A2200 is Value Packed
​
► Simple, reliable, and easy to use, the A2200's performance rivals systems that cost 100x more.
Print PLA, ABS, and high performance FD materials.
The high precision, ultra reliable positive displacement dispenser print head is capable of precisely metering functional inks with a wide range of viscosities.
Engineered for prototyping of 3D printed electronics by printing of thermoplastics in conjunction with functional inks such as high conductive silver ink.
​
​
Side-by-side precision filament extruder and enhanced materials dispensing system, in a familiar form factor and desktop sized making it very user friendly. The A2200 has a proprietary materials dispensing system to handle functional inks and pastes. Load your functional material of choice with ease while printing electronics.
​
Accuracy & Precision Control The A2200 features a real-time magnifying video inspection system for more precise adjustment control of our dispensing system. A2200 also boasts its accuracy in layer height, surface finishing, tolerance, and roundness for standard 3D printing.
​
Hybrid Materials / Electronics Independent vertical movement between extruder and dispensing nozzle with independent digital control let's you print on any size, shape, or type of substrate.
​
Continuous Printing A2200 can handle power failures/cut-offs. Once restarted, it will continue printing where it left off after the power cut-off. A2200 can also detect when the filament is about to run out. Once refilled, it will continue printing where it left off. No need to worry.
​​
Simple To Use A2200 is simple to use. Aside from controlling it with your computer, you can also control it from your smartphone or the full-color touch screen. It is compatible with WIFI, USB, SD card, and U disk for direct printing.​
​​
Software Works with your preferred CAD and slicing software. We recommend Repetier and Simplify3D.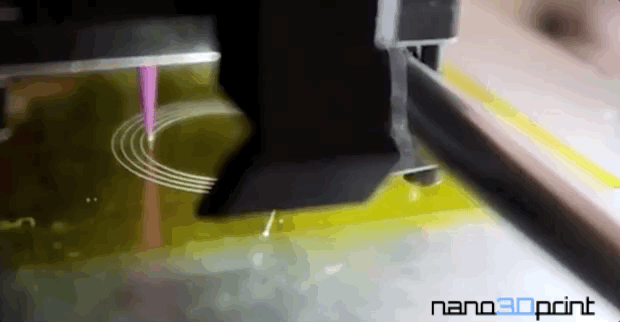 A2200 FEATURES
Single Extruder side-by-side with Materials Dispensing System

Extruder Material Support: Conductive filament, Carbon Fiber filament, PLA, 1.75mm ABS, POM, Red Bronze, Dissolvable filament (PVA, HIPS), Wood, PETG, Nylon (PA), PC, Flexible filament (TPU, PLA+), Moldlay (cartable filament), nano3Dprint high conductive filament, and much more...

Materials Dispensing System Materials Support: nano3Dprint pastes and inks, functional pastes and inks, Conductive Paints, Fast Drying Solvent Based inks, Silver Nano-Particle inks, Graphene solutions, and much more...

Continue Printing feature

Filament Run-Out Detection

Copy Printing feature

Print Modes: Direct print with SD card using full-color touch screen
​
SOFTWARE​
Compatible with: Repetier-Host, Cura, Simplify3D, Makerware, EZ-3D Wire

File Format: STL, OBJ, DAE, AMF, GCODE, BMP, JPG, JPEG, PNG

Operating System: Windows, Mac, Linux
​
BUILD
Stage Dimensions: 214x186x160 (mm) / 8.4x7.3x6.3 (in)

Stage Material: Removable glass heated bed

Printing Layer Height: ≥ 0.02mm

Positional Accuracy: XY axis: 0.011mm Z axis: 0.0025mm

Nozzle Diameter: 0.4mm

Max. Nozzle Flow Rate: 24cc/hour

Max. Axis Moving Speed: 350mm/s

Max. Nozzle Temp.: 270 °C

Max. Heat Bed Temp.: 100 °C

Machine Dimensions: 467x357x374mm

Machine Weight: 13 kg (28.66 lbs)