COVID-19 Update: Production is largely operational. Some carriers are experiencing shipping delays due to limited transport availability.
Electrify your 3D Printer
Take your 3D Printer to the next level
Print Multimaterials:




Conductive Inks, Pastes, Polymers, Ceramics, Composites, Metals, PLA, etc.
Meet the nano3Dprint A2200! A 3D printer unlike any other on the market.
We are a team of scientists, engineers, and makers. We have cutting edge nanotechnology materials, products and instrumentation. We are now combining these technologies in a familiar look and feel, open-source compatible, desktop model multimaterials printer.
Introducing A-line Printers. Familiar form factor. Familiar use of operations. New advanced capabilities. Ideal entry level 3D printer for electronics printing. Print PLA, ABS side-by-side with functional paste and inks. The next generation 3D printer.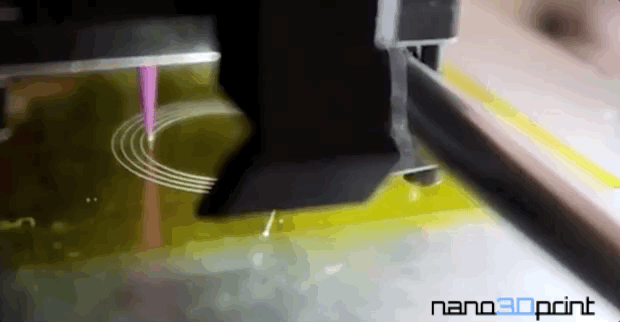 Linespace Array on Glass
and
Coil on Kapton
Print with solder paste and cut the time needed for creating your circuits. Just pop the soldering paste in and start printing your prototype.
Printing solder paste on to a PCB.
Print single or double layer PCBs.
Printing interconnects with silver paste.
No need to wait weeks or order in bulk for your prototype. Save time and money printing your own PCBs.
Printing with silver ink on PCB.
Print IoT Packaging, Sensors, Interconnects, Wiring Harness, Full Device
Print IoT packaging, sensors, antennas, resistors, conductors, and other electrical components. Try different functional pastes and inks to print your sensors.
Embedded conductive ink 3D printed within PLA.
Don't add wires, print the wires. Print the wires of your device within the housing of your structure.
LED flashlight with printed wires leading to battery.
Print on various types of substrates such as glass, ceramics, paper, or Kapton. You can even print your own substrate.
3D printed conductive paste.
Test print of printer's fidelity and precision.
Features:
Large print bed
Layer height >= 0.05mm, breaks through the industrial known layer height at 0.1mm
High precision
Continue printing after power cut.
Removable heated glass bed.
Print with various filaments and materials.
Full color touch screen for easier operation.
Compatible with multiple software, such as Repetier and Simplify3D, etc.
​
a2200 3d composites printer
3D print 5x Stronger Parts
Print Carbon Composites
​
With a modified A2200 directly print carbon composites
nano3Dprint and Simplify3D® – it's a perfect match! Simplify3D is powerful 3D printing software that provides complete control over your print settings, making it easier to consistently produce high-quality 3D prints. Start up quickly with pre-configured settings optimized for nano3Dprint, review a simulation of your build sequence in the Preview Mode, and begin your 3D print
with confidence.
- Pick n' Place
- Large/Custom Print Volume
- Multi/Custom Print Head Modification
- Pneumatic Dispenser
Interested in becoming a reseller? We want to hear from you and we welcome to join our expanding network! Just fill out our distribution/reseller interest form and we will get back to you shortly. Or you can email us at info@nano3Dprint.com with your company details.
nano3Dprint has leveraged its scanning probe extensive nanotechnology product and system knowledge to produce the D4200S, a Micro-to-Nanoscale materials printer designed for Printed Electronics, Prototyping, R&D, and Industrial Applications.
​
Perfect for dispensing functional inks.
Engineered for Micro-to-Nano scale deposition with Angstrom level spatial resolution

Ideal for Printed Electronics, Prototyping, R&D, and Industrial Applications

Wafer scale chip editing
Ask us about nanoscale deposition of Al, Au, amorphous carbon, diamond, Co, Cr, Cu, Fe, GaAs, GaN, Ge, Mo, Nb, Ni, Os, Pd, Pt, Rh, Ru, Re, Si, Si3N4, SiOx, TiOx, W, metal carbonyls of Me(CO)x, metal-halogen complexes (WF6, etc.).
Door Guide for Ford Windstar
Tone arm clamp for Audio-Technica Turntable
Need a custom part? Looking to give a unique gift? Want to get your design 3D printed? We can help you with that! Whether you already have a compatible file (.stl, etc.) of your design or you need some help finalizing your 3D model. We provide 3D printing services to help you with your needs.
​
Just fill out the request form, add your file, or contact us directly at info@nano3Dprint.com
We believe in creating the best products for the best companies out there. And we don't imagine our standards will drop anytime soon. We're committed to designing, crafting and assembling the best merchandise on the market. To that end, we'd love to give you a behind-the-scenes view into who we are and how we got started.