Unlock The Power of 3D Printing
Light up traditional 3D prints with embedded electronics. 3D print micro-to-nanoscale materials. Discover new additive manufacturing solutions for home and professional use.
Invent, design and manufacture…quickly, easily, and accurately.




Our innovative multi-material 3D printers will revolutionize your creations.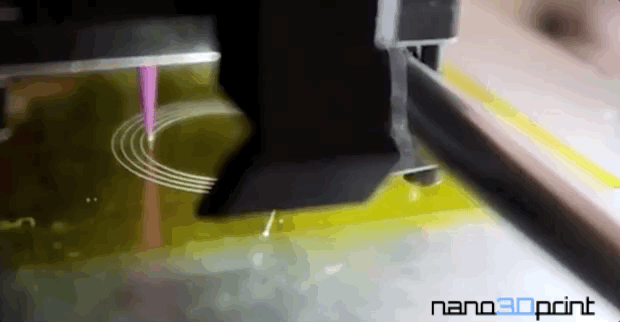 Linespace Array on Glass
and
Coil on Kapton
Print with solder paste and cut the time needed for creating your circuits. Just pop the soldering paste in and start printing your prototype.
Printing solder paste on to a PCB.
Print single or double layer PCBs.
Printing interconnects with silver paste.
No need to wait weeks or order in bulk for your prototype. Save time and money printing your own PCBs.
Printing with silver ink on PCB.
Print IoT Packaging, Sensors, Interconnects, Wiring Harness, Full Device
Print IoT packaging, sensors, antennas, resistors, conductors, and other electrical components. Try different functional pastes and inks to print your sensors.
Embedded conductive ink 3D printed within PLA.
Don't add wires, print the wires. Print the wires of your device within the housing of your structure.
LED flashlight with printed wires leading to battery.
Print on various types of substrates such as glass, ceramics, paper, or Kapton. You can even print your own substrate.
3D printed conductive paste.
Test print of printer's fidelity and precision.
Features:
Large print bed
Layer height >= 0.05mm, breaks through the industrial known layer height at 0.1mm
High precision
Continue printing after power cut.
Removable heated glass bed.
Print with various filaments and materials.
Full color touch screen for easier operation.
Compatible with your preferred slicer software.
​
A2200 3D Composites Printer
3D print 5x Stronger Parts
Print Carbon Composites
​
With a modified A2200 directly print carbon composites
- Pick n' Place
- Large/Custom Print Volume
- Multi/Custom Print Head Modification
- Pneumatic Dispenser
Interested in becoming a reseller? We want to hear from you! Fill out our distribution/reseller interest form or email us at info@nano3Dprint.com with your company details. We will get back to you shortly.
Discover the A2200 3D Multi-material Electronics Printer
D-Line Printers




Macro to Nano
nano3Dprint has leveraged its scanning probe extensive nanotechnology product and system knowledge to produce the D4200S, a Micro-to-Nanoscale materials printer designed for Printed Electronics, Prototyping, R&D, and Industrial Applications.
​
Perfect for dispensing functional inks.
Engineered for Micro-to-Nano scale deposition with Angstrom level spatial resolution

Ideal for Printed Electronics, Prototyping, R&D, and Industrial Applications

Wafer scale chip editing
Ask us about nanoscale deposition of Al, Au, amorphous carbon, diamond, Co, Cr, Cu, Fe, GaAs, GaN, Ge, Mo, Nb, Ni, Os, Pd, Pt, Rh, Ru, Re, Si, Si3N4, SiOx, TiOx, W, metal carbonyls of Me(CO)x, metal-halogen complexes (WF6, etc.).
We are a team of scientists, engineers, and makers who believe in creating the best products for the best inventors out there. We're committed to designing, crafting, and assembling the best merchandise on the market.